Jinlong Brand Poultry chicken feed tray red plastic chick feeding tray duck goose broiler pigeon feed plate farming animal tools/FP02,FP06,FP07
Product Detail
Product Tags
Jinlong brand. Feature of chicken feeders plastic
1. Sturdy construction, durable plastic.
2. Yellow bottom, white body, ed handle.
3. The product can be standing floor or be hung.
4. Long durability, good corrosion resistance effects.
5. Easy to access and clean.
6. Poopular design.
7. Haning handle.
8. Bright green and white.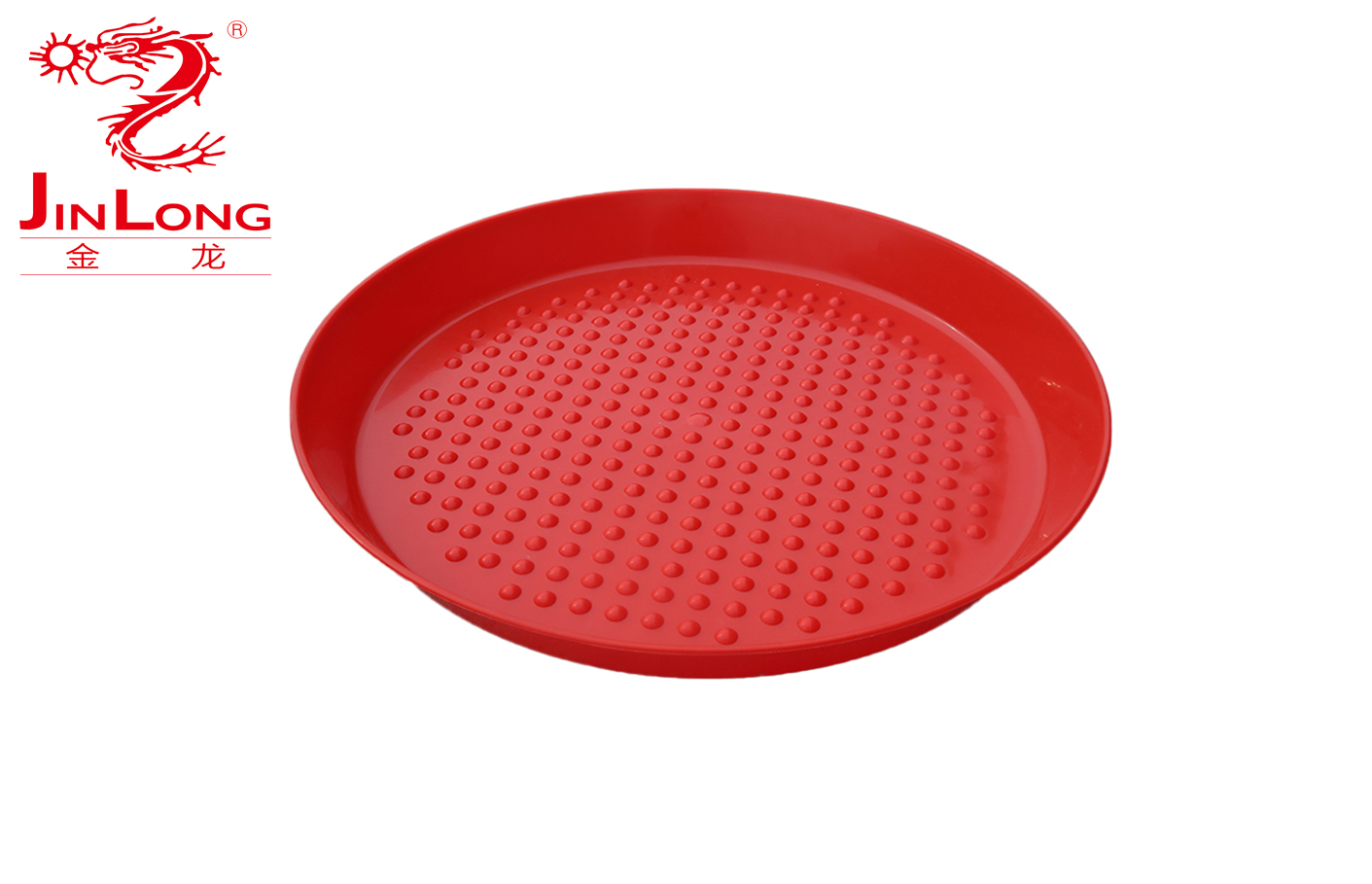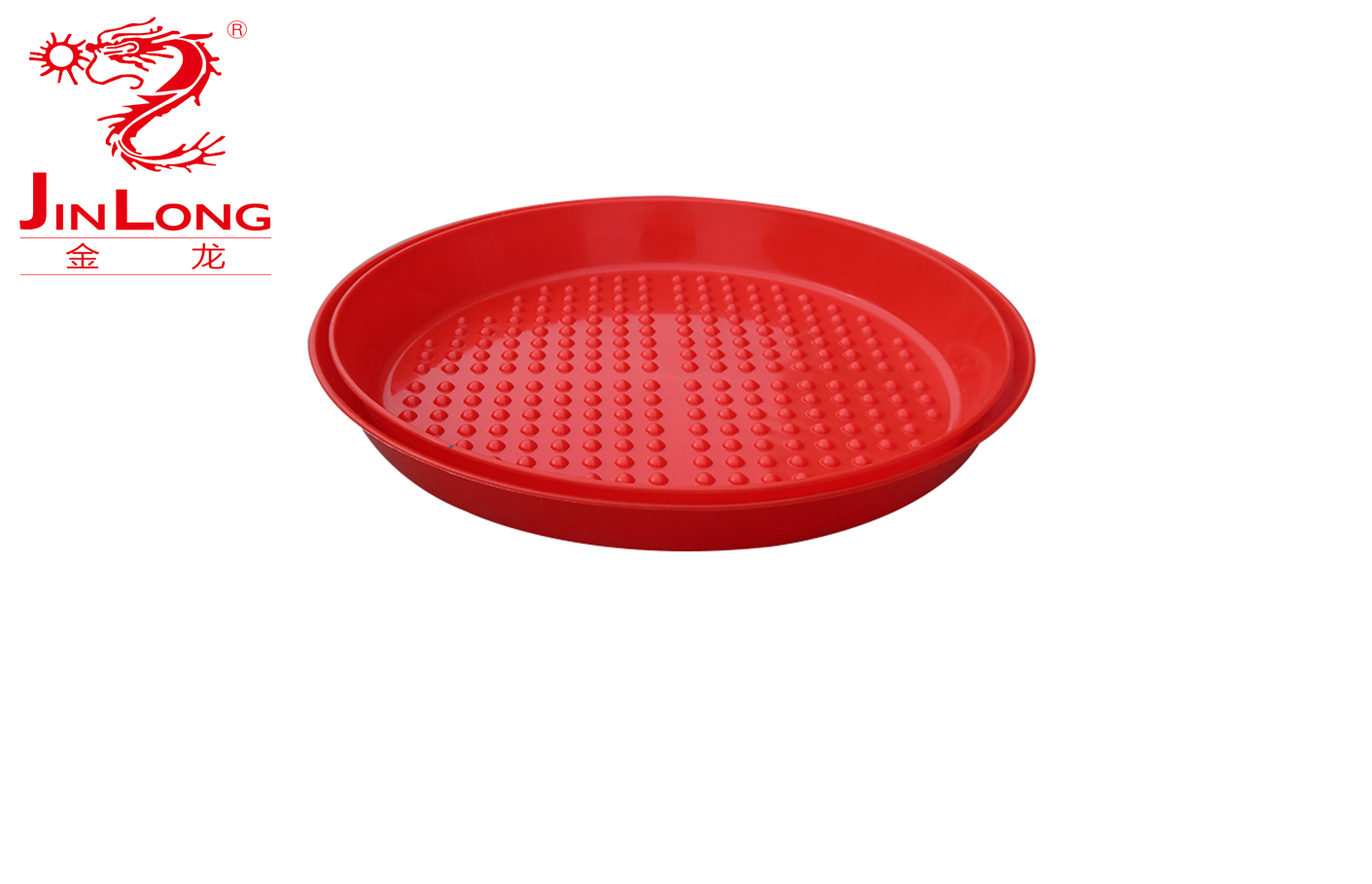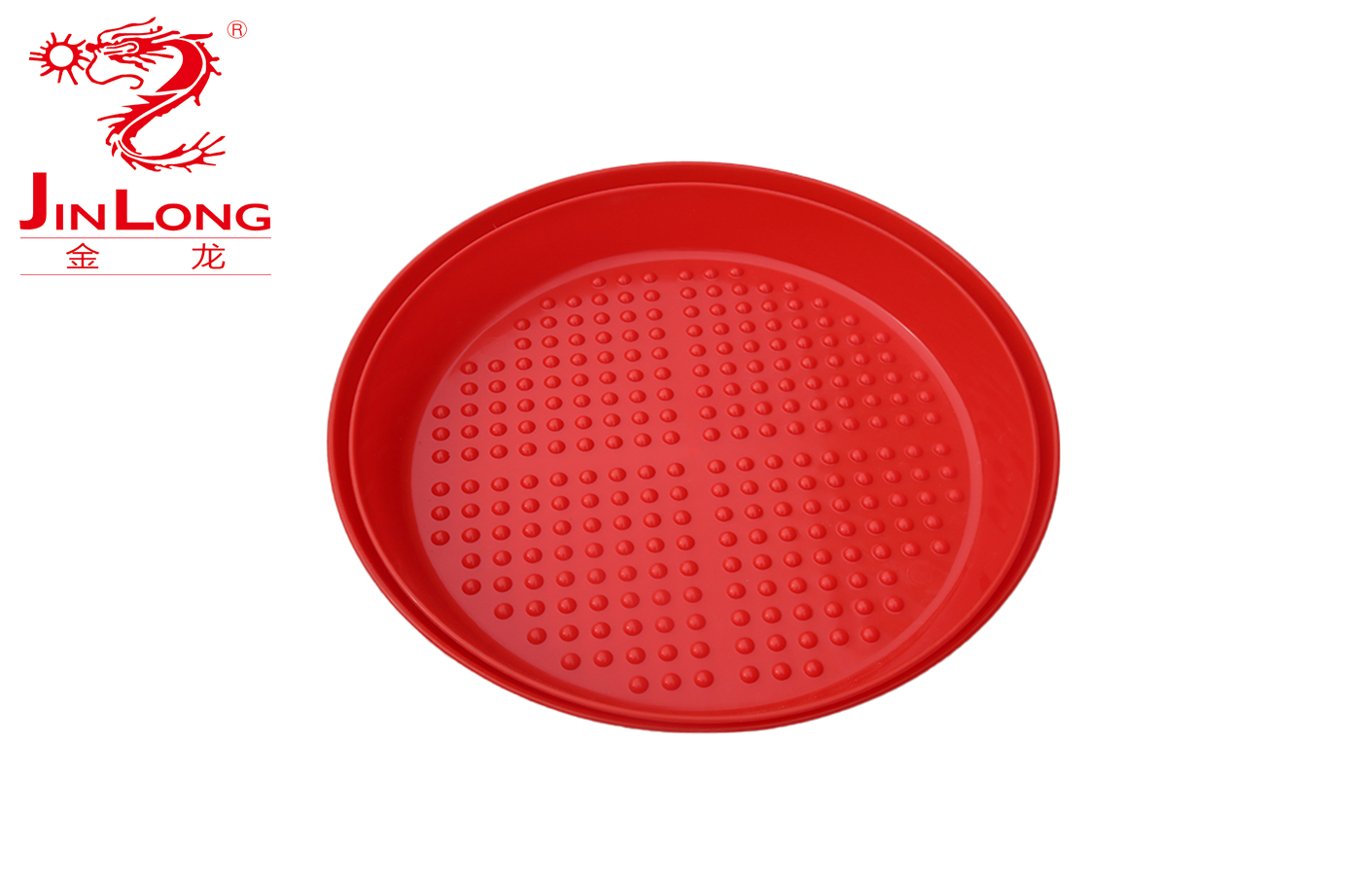 1. Anti-slip design.
2. Various sizes.
3. Safe, non-toxic, heat-resistant, low-temperature resistant, good toughness and anti-aging.
4. Easy to install, level.
5. Suitable for chickens, broilers, breeders, pullets, ducks, pigeons, birds, quails, hens, turkeys, geese, wild birds and other poultry.
We also have automatic chicken drinker:
1. The Plasson Bell Drinker used a bucket or low pressure water line to fill water in the trough.
2. The 38cm diameter of bell trough can supply more than 30 Broilers drinking at same time.
3. Sand ballast bottle fill with sands can keep the bell trough level.
4. nylon cord can adjustable easy.
5. The depth of water in trough can adjustable easily.
6. It can serve for all range of poultry. like day-old chicks. adult chicks. finish chicks.Breeder. Game birds.Backyard chicken, ducks.
Are you a trading company or a manufacturer?
Longlong is A professional animal husbandry equipment manufacturer, we have our own factory.
What is your lead time?
10-15 days if the goods are in stock. Or if the goods are not.
Inventory is 30-45 days, it is based on quantity.
Do you provide samples? Is it free or extra?
Yes, we can provide samples, but it's not free.
What are your payment terms?
Payment:1000USD, 100% advance payment. Payment= $1,000, 30% T/T in advance, balance before shipment. If you have any further questions, please feel free to contact us.
| | | | | | | | |
| --- | --- | --- | --- | --- | --- | --- | --- |
| Model No. | Name | Specification | Material | Packing capacity | Package size | G.W. | Color |
| FP01 | small feed plate | 33cm*3.5cm | pp | 100sets/0.17m³ |   | 220g | any color |
| FP02 | big feed plate | 40.5cm*3.6cm | pp | 100sets/0.18m³ |   | 380g | any color |
| FP03 | feed plate | 54.5cm*35cm*4.3cm | pp | 100sets/0.35m³ |   | 540g | any color |
| FP06 | High edge feed plate | 39.2cm*5cm | pp | 100sets/0.09m³ |   | 260g | any color |
| FP07 | High edge feed plate | 42.7cm*4.8cm | pp | 100sets/0.1m³ |   | 360g | any color |
| FP01-1 | feed plate | 33cm*2.5cm | pp | 100sets/0.2m³ |   | 130g | any color |
| FP02-1 | feed plate | 41cm*3cm | pp | 100sets/0.25m³ |   | 250g | any color |
| FP04-1 | feed plate | 51cm*3.5cm | pp | 100sets/0.34m³ |   | 400g | any color |
| FP05-1 | feed plate | 63cm*4cm | pp | 100sets/0.5m³ |   | 600g | any color |
---
Previous:
Jinlong Brand Pigeon feeder trough feeding tools feeders feed plastic trough farm animals/AA-5,AA-6,AA-7
Next:
Jinlong Brand Virgin Material Brooding Plasson Automatic Drinker for Chicks, Ducks and Goose Automatic Drinkers/DP01,DP02,DT18
---
Write your message here and send it to us