Jinlong brand virgin PE material for chicken and customized automatic plasson drinker/DP01,DP02,DT18
Product Detail
Product Tags
Jinlong brand.
1. Made of pure polyethylene, anti-aging and pollution-free.
2. Novel design, reasonable structure, saving labor cost.
3. It saves water and material, improves the environment, and allows chickens to drink fresh water every time. It is an ideal drinking fountain for chicken farms.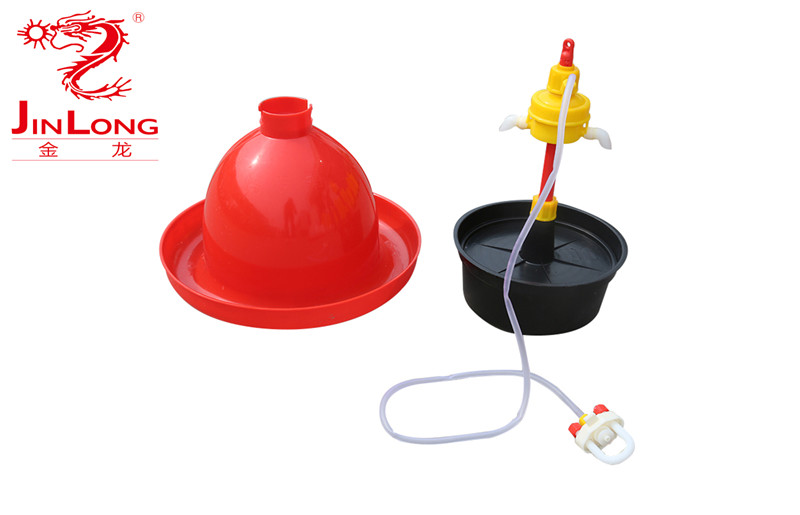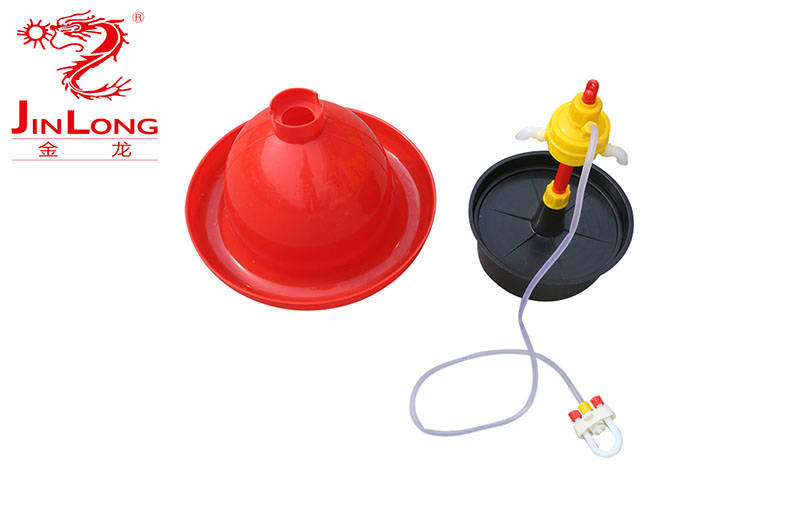 Cleaning
The first is the cleaning situation in the later period after the chickens enter the pen. After entering the chickens - once a day, - once every two days, and once every three days after the day, and then the cleaning requirements: tools, a sewage bucket, a disinfectant bucket, A rag. 
Method a. Pour the remaining water in the Plasson into the sewage bucket.
a. Scrub the surface and sink of Plasson with a rag dipped in disinfectant.
b. Pour the residual water in the Plasson sink into the waterless bucket again.
c. Sewage should be mentioned outside the house and poured into the drainage ditch, and it is forbidden to spill on the ground inside the house.
d. The disinfectant should be replaced in time according to the specific situation.
e. Wash with clean water before and after immunization and on the same day.
f. The choice of disinfectant requires the bottom poison, high efficiency, no corrosion and no irritation
Preparation tools: bucket, rag, shoe brush, cleaning ball, disinfectant. 
a. Scrub the Plasson drinking fountain with clean water, especially the surface of the barrel wall.
b. The weight of the drinking fountain and the connecting pipe should be cleaned as well.
c. If the connecting pipe is blocked, use the air pipe to clear it.
d. After cleaning, put it in the disinfectant and immerse it in the disinfectant. e. Then hang it into the chicken coop.
| | | | | | | | |
| --- | --- | --- | --- | --- | --- | --- | --- |
| Model No. | Name | Specification | Material | Packing capacity | Package size | G.W. | Color |
| DP01 | Plasson Automatic Drinker | Height 38cm, Dimater: 35 cm, Gutter: 4cm | HDPE | 100sets/1.0m³ |   | 1000g | any color |
| DP02 | Plasson Automatic Drinker | Height 38cm, Dimater: 39 cm, Gutter: 6cm | HDPE | 100sets/1.1m³ |   | 1000g | any color |
| DT18 | Plasson Automatic Drinker | Height 33cm, Dimater :36.5 cm, Gutter: 4cm | HDPE | 100sets/1.2m³ |   | 800g | any color |
---
Previous:
Jinlong Brand Virgin HDPE material feeder pigeon feeding trough water feeder /AA-7,AA-6,AA-5
Next:
Jinlong Brand Virgin HDPE material Poultry Shifting crate for birds, chickens, ducks and goose accept customized/SC01,SC02,SC03,SC04,SC05
---
Write your message here and send it to us